In this excerpt from his new book Beyond Cut and Paste, ed-tech guru Jamie McKenzie explains why having your students turn their backs on you may be a good thing in the laptop classroom!
Landscape is rarely discussed in many schools. In some schools, the desks, the tables and the chairs rarely move. Visitors can walk down the halls of many high schools and find nearly all the classrooms organized with rows of desks facing the front. At the front sits a teacher desk and a lectern as well as a presentation table that might hold equipment such as an overhead projector or a video projector and document camera. Sometimes equipment hangs from the ceiling or peers out from a corner.
This design has been popular for many decades and serves classroom lecturing fairly well, but effective teachers will ask students to move furniture around to meet lesson objectives, since some arrangements serve particular learning goals better than others. Constructivist learning activities, for example, thrive when furniture is not arranged in rows as it is for didactic lessons.
Example: To illustrate this landscape issue, consider a seventh grade social studies teacher asking students to debate the wisdom of offshore drilling.
The class began with all seats facing forward. The teacher points to a chart on the white board showing fastest times for 8 different furniture arrangements in this class (list). She holds up a stopwatch.
"OK, now, get into debate format when I give the signal, all who oppose the congressional offshore drilling moratorium on this side of the room and those who support it on this side of the room."
It takes the students less than a minute to change the room to match the learning activity. They can now glance across the room and concentrate on their opponents and the ideas at stake. The teacher may still direct the flow, but attention has been shifted intentionally away from the front of the room to the other students.
On some days the teacher may allow students to keep laptops open to consult research done in previous classes or to take notes. There may be a ground rule that blocks browsing during the debate. The teacher may have developed class norms that distinguish between productive and acceptable browsing in contrast with diversionary wandering that would dilute the attention being paid to the debate. On some days all laptops will be shut.
When networked computers first came to schools, most were desktop machines that did not move easily. The flexible approach to classroom landscape outlined above was very difficult with such equipment and many schools built computer labs will most of the equipment bolted to the floor. Many of those labs had computers lined up in rows facing the front of the room. Teachers in such classrooms had little choice but to adjust to a single reality, except that they could change the front of the room to the back by stepping behind the students where they would be able to see their screens.
A major theme of this article is the importance of teachers being able to see the students' screens when they are working on challenges and tasks assigned by the teacher. While there is now software available to allow such monitoring from the teacher's computer, most teachers must rely upon a technique we will call eyeballing. Certain furniture arrangements are more supportive of eyeballing than others, and thanks to the arrival of wireless laptops, movement and flexibility are now real options in many schools.
Even though movement and flexibility are options, many teachers have worked through decades of arranging rows to face the front. Those habits are sometimes deepseated and hard to shed.
During the past ten years, I have successfully employed the arrangement shown in the diagram below to handle class sizes of 50-175 working hands-on as pairs or trios.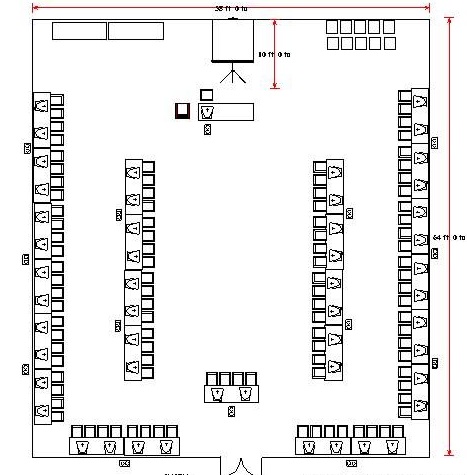 This arrangement of tables and laptops was designed so that I would be able to see every screen when class members were working on information challenges. This eyeballing would help me know how to pace the lesson and would allow me to pay attention to those in need.
In this situation, when I need the full attention of the class for 5-10 minutes, I will ask them to swivel around and join me. They turn their eyes forward on me and the screen. Sometimes I am initiating a group discussion, in which case, they will swivel around and face each other in one large "C" shaped grouping. Sometimes I will invite them to turn with laptops on laps because they have important work just completed that they might need to share. Other times I will ask participants to turn their backs on the laptops because they might prove a distraction.
Most times when I hold these sessions, several teachers will enter the room and move the laptops around so they are sitting on the opposite side of the tables from the side I intended. Accustomed to facing the front of a classroom, they are most comfortable sitting facing the front of the classroom with a laptop between me and them.
This is a teachable moment, as it offers an opportunity to mention classroom landscape and provide a brief explanation of why I have set up the room in the way I have. Even after this explanation, they are usually skeptical. As the day proceeds, we hold a number of discussions of landscape, monitoring, eyeballing and attention. By the afternoon, some of the skeptics have seen the light and embraced the strategy. Others are tenacious, sticking with what they have always known.
During the day, there are times when participants are asked to gather with six chairs and two laptops. At other times they are urged to go anywhere in the building for fifteen minutes to work on a challenge. The configuration that greets them in the morning morphs, shifting and adjusting as the activities change.
A teacher who ignores landscape in laptop classrooms is likely to encounter difficulties with classroom management. A useful Web site outlining some of these issues can be found at http://www.asbindia.info:8081/drupal/Tech@ASB/?q=node/81
This passage is an excerpt from Jamie McKenzie's book, Beyond Cut and Paste, published here with the author's permission. The material is copyrighted and may not be further reproduced or published without his permission. Copies of Beyond Cut and Paste may be ordered from The FNO Press Bookstore.